2023
MegaWatt®
Power Supplies
Built for HAM Radio, CB Radio, HF Radio, Shortwave Radio or a Linear Amplier
Also Great for LED Lighting
and as an RV Battery Charger
100 Amp 200 Amp 400 Amp or more
30 Amp 36 Amp 40 Amp and 50 Amp too
o
This Is The MegaWatt® Website
Don't Get Stuck With An Offshore Clone
New Quiet Fan in the S-350-12, S-400-12 and S-500-12Makes the Fan Run Almost Totaly Silent.
The S-700-12 Is Now 10bd Quieter
Four S-700-12s Running at 200 Amps 14 Volts
Purchase At The Bottom Of The Page
S-700-12: 100 Amps 200 Amps 400 Amps or more read here:
50 Amps Continuous at 10-14 Volts Heavy Duty DC Power Supply. Adjustable Voltage From 10 to 14 Volts DC Output 690 Watts. Great for 13.8 volt equipment, all MegaWatt Power Supplies are highly filtered and regulated. New Fan Circuit 10db Less Cooling Fan Air Noise.

All power supplies are modular. They will run In Parallel with other like power supplies to produce any amperage you want. You can also run them in series to produce any voltage.

All our fans run very slowly full time to stop heat cycling which is the main cause of power supply circuit board failure. See videos for an example. All power supplies come with a grounded 110 volt power cord.
Links to other website reveiews
These Power Supplies also have many other uses. The S-350, S-400 and S-500 work great as onboard battery chargers for RVs with one standard battery also cars and trucks. Keep your car battery fully charged and operate all your 12 volt equipment while parked. They will charge a low battery at full capacity and slowly ramp down the charge amperage to a 2 amp trickle charge as needed. Great for cars that are rarely driven.
They can be used to power LED lighting systems, RC Car, Airplane and Helicopter Mobile Battery Chargers in the house. They are widely used as LED Driver Power Supplies, Servo Control Power Supplies for CNC and Robotics or just prototyping and projects requiring 10 to 15.5 VDC power.
Both S-350-12, S-400-12 and S-500-12 power supply dimensions are 8 1/2in long X 4 5/8in wide X 2in tall .
The S-700-12 is 9.5in long X 5in wide X 2.75in tall .
All power supplies come with a grounded 120 volt power cord and instructions.

You DO NOT need a PayPal account to check out
If you are purchasing large quantities check with us for a shipping quote.
Privacy: All information exchanged or received on this website is 100% protected and is
never shared without written permission.
S-350-12 30 AMP 33 Amp Peak
9.5 to 15.5 Volts DC
UPC 683405633754
Orders over 10 units will not be processed without contacting us first about shipping
$55.00
S-400-12 36 Amp 10 to 15.5 Volts DC
UPC 685256290230
Orders over 10 units will not be processed without contacting us first about shipping
$65.00
S-700-12 50 Amps Continuous Adjustable Voltage 10 - 14 VDC
UPC 703510623126
Orders over 10 units will not be processed without contacting us first about shipping
$125.00
MegaWatt vs Clone Test Video
Four MegaWatts 200 Amp Test Video
Free 1 to 3 Day Priority Shipping Upgrade on Every Purchase
All payments are made on a fully secure HTTPS webpage
This is a demonstration only. Do not run your
S-700-12s over 14VDC while in parallel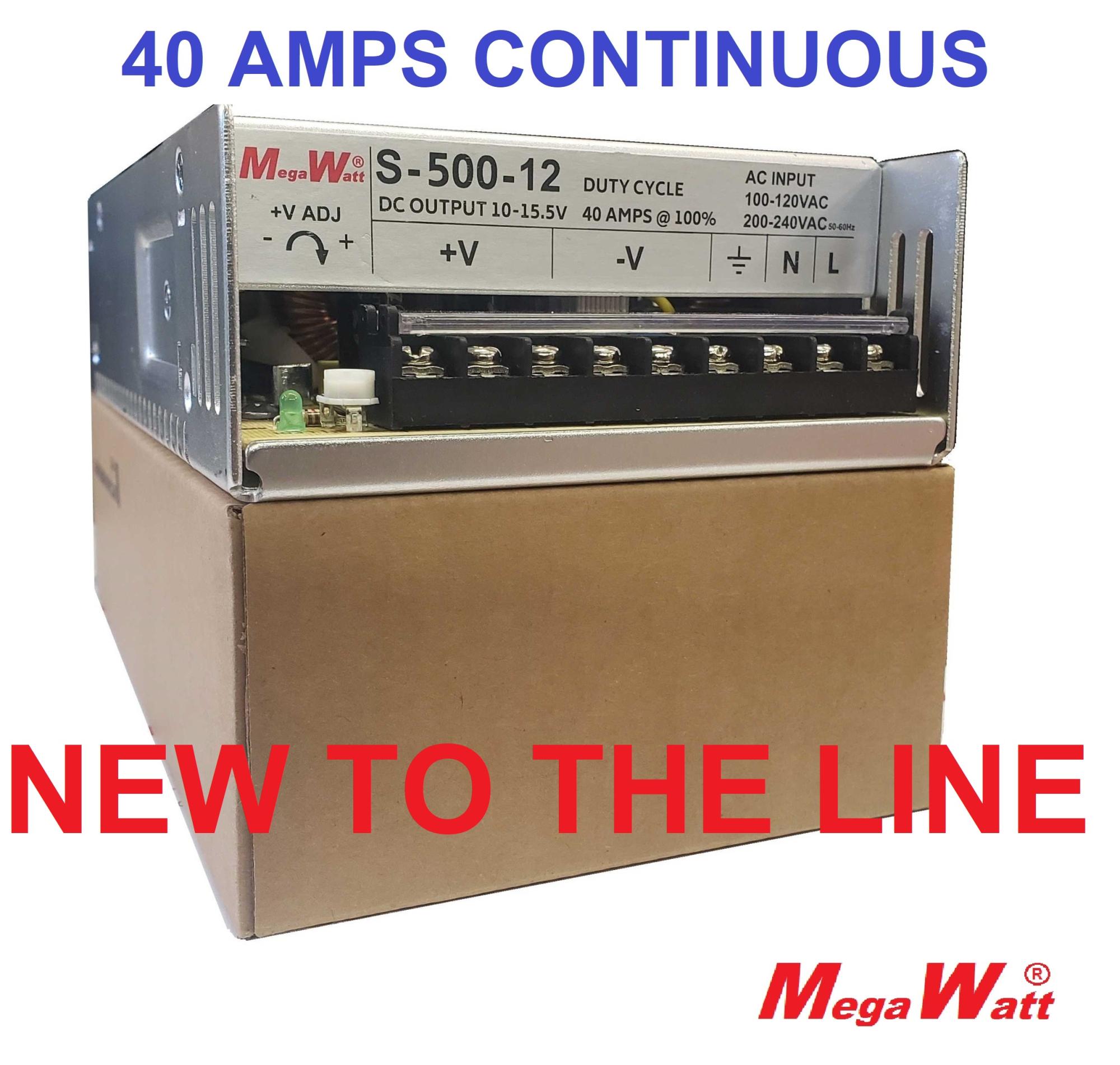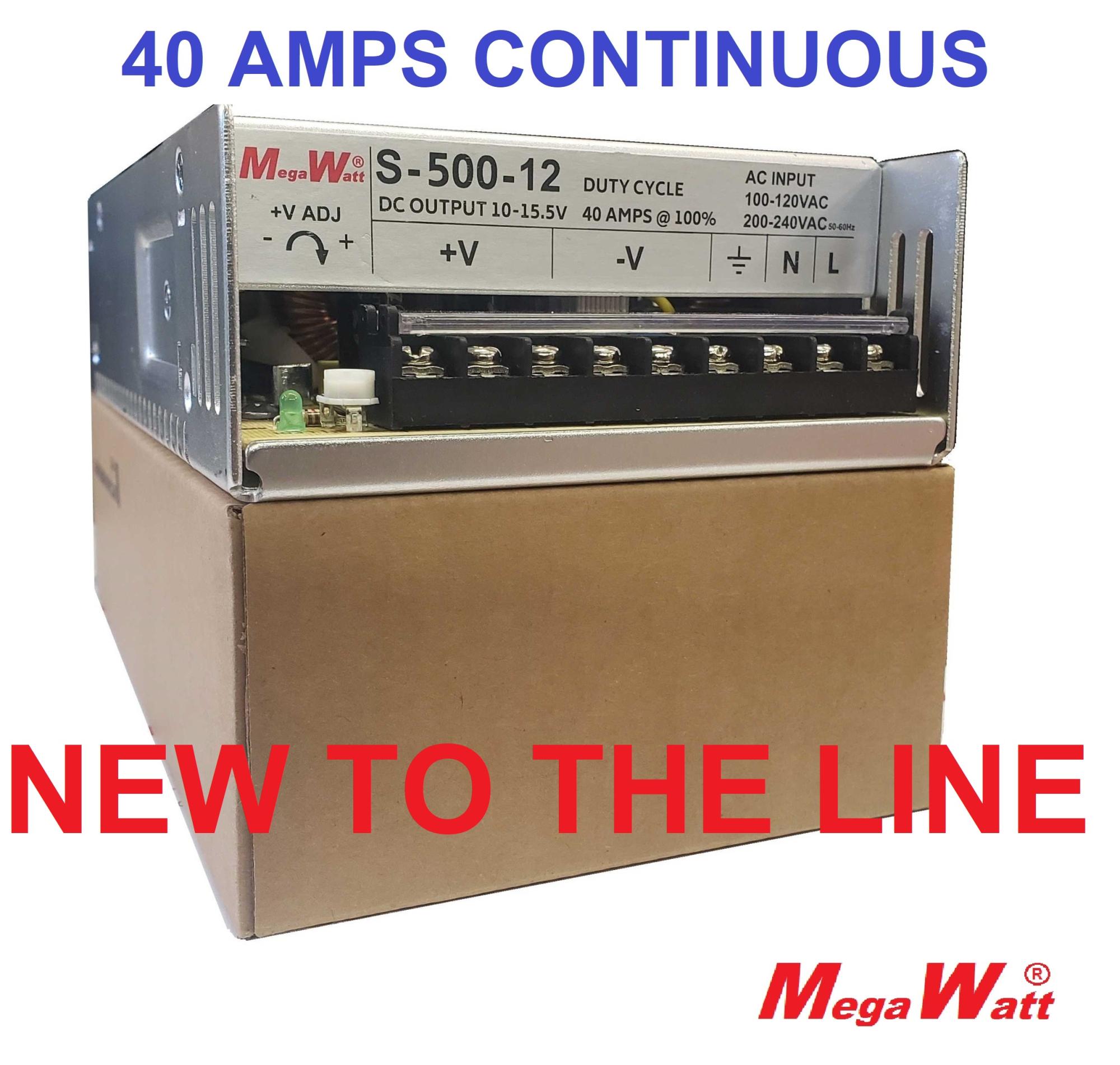 S-500-12 40 Amps Continuous Adjustable Voltage 10 - 15.5 VDC
Orders over 10 units will not be processed without contacting us first about shipping
$75.00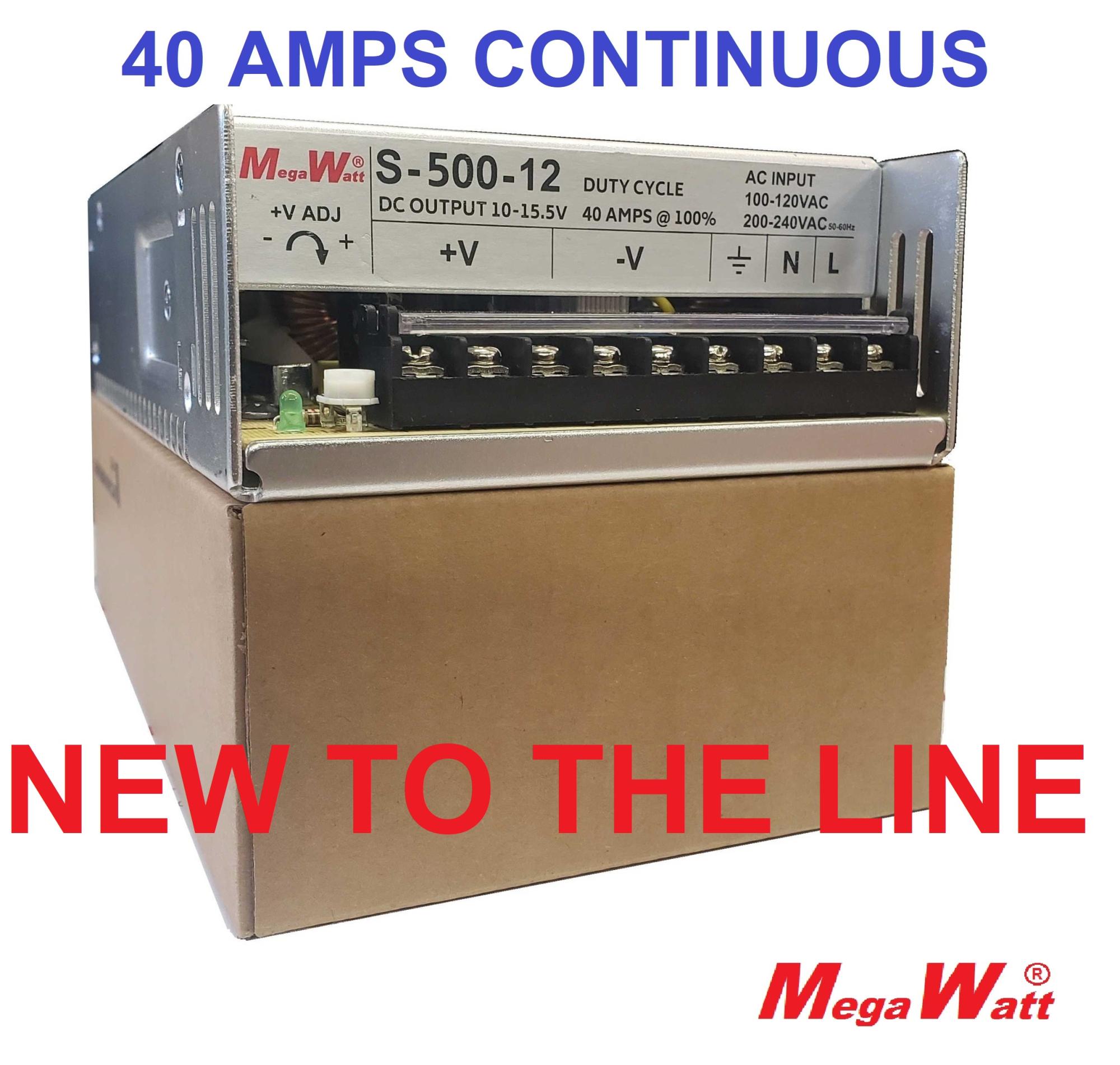 $8.00 shipping to the USA
for the S-350-12 or S-400-12 or S-500-12
$15.00 to the USA for the S-700-12
Please Contact us for International Sales